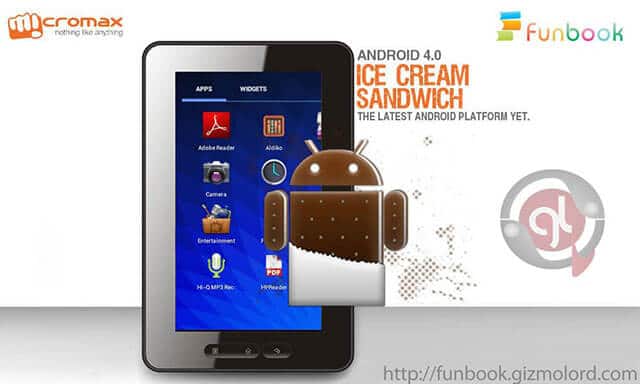 Last month, Micromax, one of the Indian mobile manufacturing companies, released its first-ever tablet, The Micromax Funbook. Priced at just Rs. 6499 this tablet is one of the cheapest Android tablets you can buy in the Indian market.
Lets look at the specifications of the Funbook:
| | |
| --- | --- |
| Processor | AllWiner A10 SoC (Based on ARM Corte A8 Processor) @ 1.22 Ghz |
| GPU | Dual Mali-400 |
| Ram | 512MB DDR3 |
| Screen | 7″ Capacitive touch Screen, 800X480 Resolution, 16:9 Aspect Ratio |
| Camera | Front Facing 0.3MP camera |
| Connectivity | WiFi, 3G Support via external Dongle |
| Battery | 2800 mah Li-Ion Rechargable |
| Video Formats Supported | MPEG2, MPEG4, AVI, WMV, 3GP, MOV, MKV, RM, RMVB |
| Audio Formats Supported | MP3, WMA, FLAC, WAV |
| Operating System | Android 4.0 "Ice Cream Sandwich" |
| Memory | 4GB internal Storage |
| HDMI | Yes. via mini-HDMI port |
| USB | Yes. A mini USB port |
| Dimensions | 122 x 192 x 10 mm |
| Weight | 360 g |
| Other Notable Features | Pinch zoom, Expandable storage via MicroSD card up to 32GB |
Pretty good specs, aren't they? Let's start the review now!
Micromax Funbook Review
Packaging: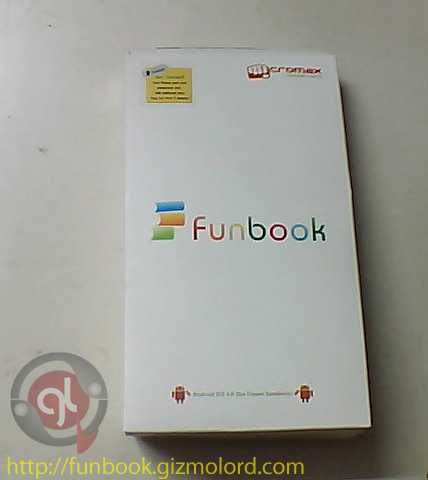 The Funbook comes in a triangular box which is pretty unusual. I have never seen such a triangular box. However, the Funbook is nicely supported inside with a piece of synthetic foam. The quality of the overall package is pretty good. The box lists a few of the Funbook's key features along with its specifications.
Whats in The Box?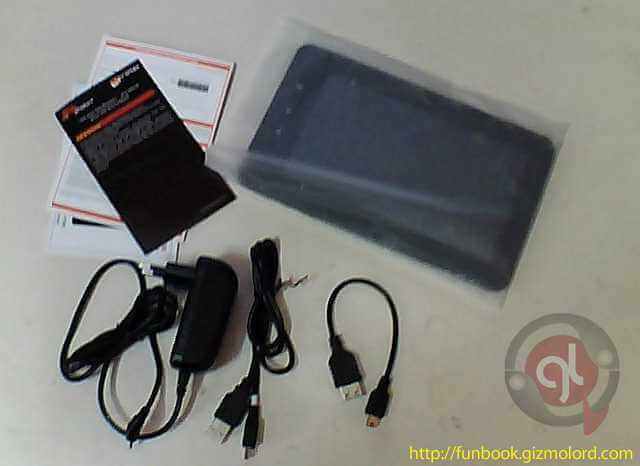 The bundled accessories that come with the Funbook are on a lesser side. Funbook comes with a charger, USB cable, mini USB to USB OTG cable, a manual, and some other documentation. As opposed to what is advertised,  there is no Tata Photon Dongle inside. Instead, there is a voucher which a user can redeem in a Tata store or by calling their helpline. Though advertised as free, the user actually needs to pay Rs. 500 as activation charges to get the Tata Photon Dongle. Sadly, there are no headphones inside the bundle. Which is a big disappointment.
Connectivity: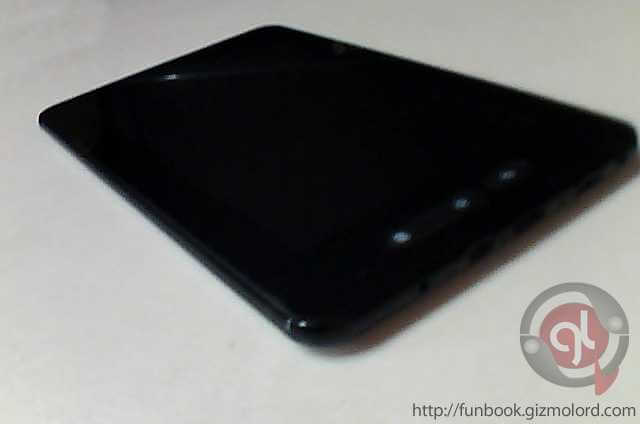 There are a lot of connectivity options given in Funbook. It has WiFi, USB 2.0 with OTG support, HDMI, 3.5MM audio jack. Though it has a mini-HDMI port, no mini-HDMI to HDMI adapter or cable is bundled. Another big disappointment is the lack of Bluetooth. Though in my usage of 4 days, it hasn't created any need to use Bluetooth but some users may require Bluetooth to share files.
Design and Build Quality: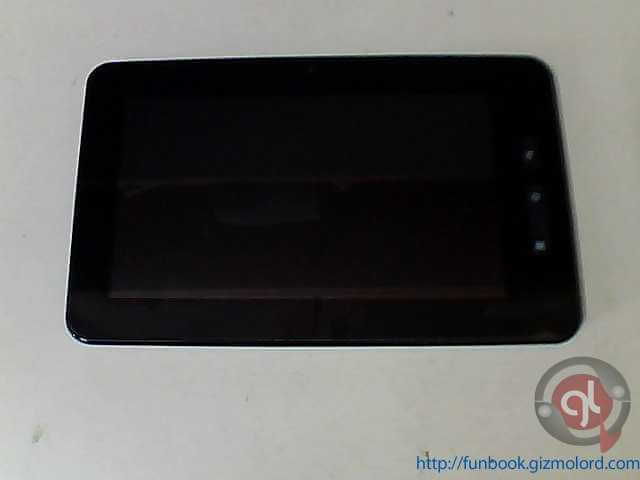 The design is very sleek and stylish. At the moment I saw the Funbook, I was just amazed to see how good-looking it is. The build quality is also very sturdy and good. Regarding the build quality, there is an issue that might be a problem for some users. If we tap the back of the Funbook, its screen shows some patterns which are similar to those displayed on tapping an LCD screen. Except for this minor issue, there is nothing to complain about the build quality and design. There are three hardware buttons on the front viz. Home, Back, and Options. But these hardware buttons are pretty useless because there are similar buttons on the touchscreen too.
Interface:
The Funbook comes with the stock ICS interface. Micromax has not at all modifies the interface of ICS. The interface is pretty easy to use and fluid. Except a few minor occasional lags when using too many applications there isn't anything to complain in the interface. There are 5 Homescreens for you to put your shortcuts and widgets.
The Homescreen: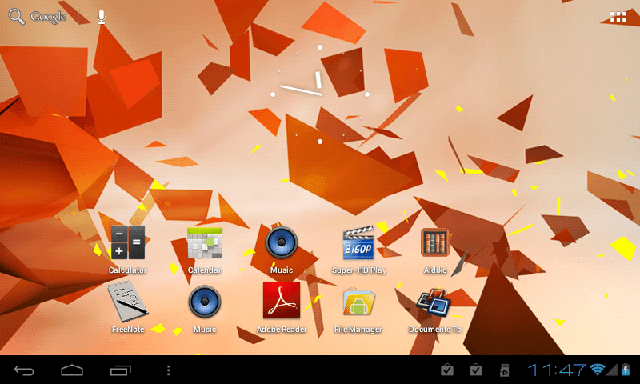 The Main Menu:
The Widgets Menu: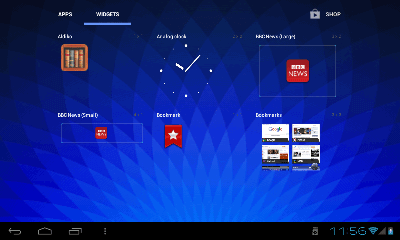 Display: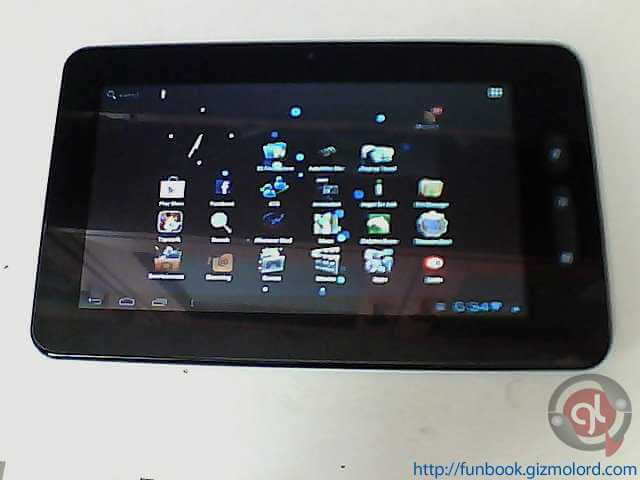 The screen is a 7″ Capacitive touchscreen with a resolution of 800X480 along with 5 points multi-touch support. The screen resolution is pretty less for the size of the screen but we can't expect anything more than this in a tablet priced at 6.5K. The touch response is very good. There is nothing to complain about the touchscreen.
Pinch zoom, scrolling works very well and without any lags.
Web Browsing:
The stock browser that comes with the Funbook is a big disappointment. It makes Web browsing a not-so-good experienced. It takes a bit of time to load the web pages and scrolling and pinch-zoom is not as smooth as you'll expect. The stock browser lags a bit here and there. But, luckily, downloading 3rd party browsers like Dolphin HD (Recommended) and Opera Mobile solves each and every problem related to Web Browsing.
Video Playback:
Due to the courtesy of the Mali-400 GPU, 1080P HD videos run very smooth on Funbook. Movie Watching is a good experience on Funbook.
eBook Reading:
This tablet has an LCD screen which is not so soothing to eyes and not recommended for long-time reading. For rading eBooks for 30-45Mins, Funbook is very good. It has 3 built in apps which can be used as a eBook reader. Adobe Reader, Documents to Go for PDF, Aldiko for epub.
Gaming:
Again thanks to the Mali-400 GPU Many HD games run very smooth on the Funbook. The only problem being the availability of the games. However, theres an app named Allwinner Mod in the Google Play store, which allows you to play most (if not any) games compatible with Samsung Galaxy SII.
Camera:
Funbook comes with a 0.3MP front facing camera. Though week on paper, the camera quality is pretty good and is close to that of 1.3 MP.
Battery Life:
The 2800 mah battery is on the lesser side. It provides internet browsing (over WiFi) time of 3.5 to 4 hours. The amount of time also greatly depends upon the brightness of the screen. You can watch a full movie on this tablet if the tablet is fully charged. Standby time is about 7-8 hours.
Final Verdict:
Inspite of a few negative points, this tab is a very good performer. At the price of 6.5K you cant really get anything more. The tablet performs very good and you'll never regret your buy.
I'll Give this tablet 4/5 stars!
Micromax Funbook Review - One of the cheapest Tablet powered with Android ICS | Funbook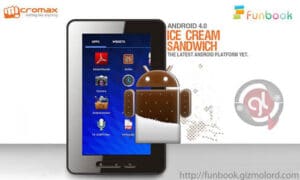 Last month, Micromax, one of the Indian mobile manufacturing companies, released its first-ever tablet, The Micromax Funbook. Priced at just Rs. 6499 this tablet is one of the cheapest Android tablets you can buy in the Indian market.
Product Brand: Micromax Funbook
Product Currency: INR
Product Price: 6500
Product In-Stock: InStock